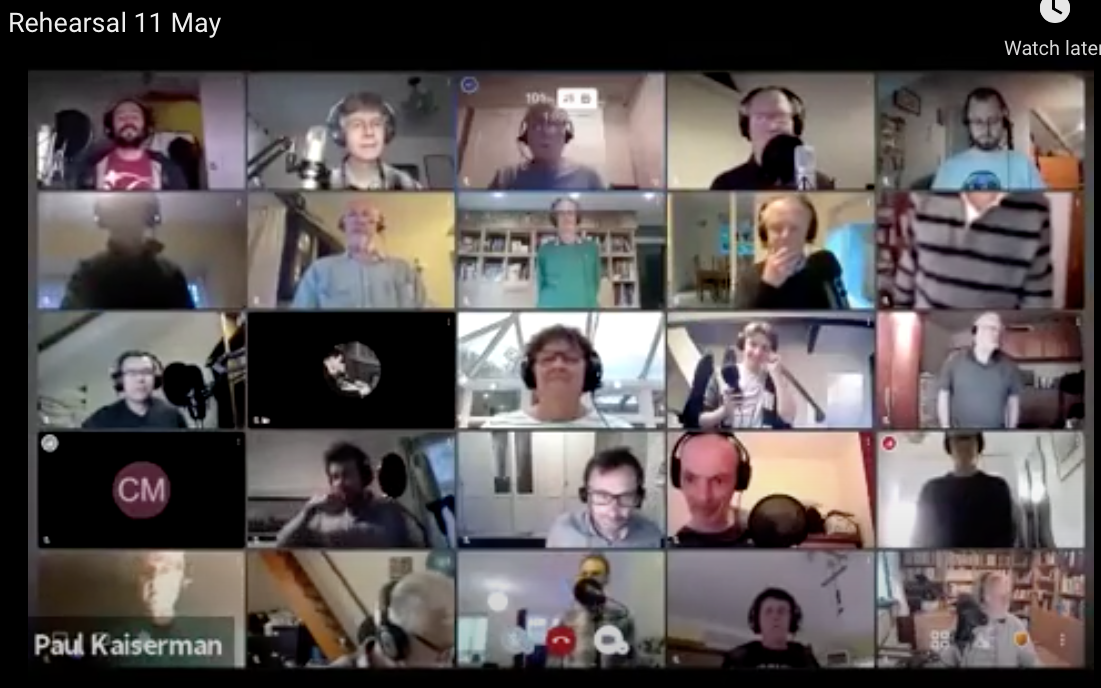 Hallmark rehearses live for the first time in just over 12 months
This image captures Hallmark singing together but apart on a Tuesday night! Thanks and credit needs to go to Paul Kaiserman, Paul Searson and Duncan Blackeby for their patience and perseverance in making this happen. Not even the worst Thunderstorm to hit the East Midlands in a few years could stop this from happening. Before the event, after a year on Zoom, people's expectations were pretty low but the feedback has been overwhelming positive; it was great to hear those chords!
Hallmark is making use of some software called Jamulus. Jamulus requires a decent computer with a wired connection to the internet, a good quality microphone, some good quality headphones and a little bit of handholding for the technophobe. Some members of the chorus are not set up and so a way has been found to patch Jamulus into Zoom so that everyone in the club can benefit from a Jamulus rehearsal to a greater or lesser degree.
The overwhelming feedback has been positive, even from those that could attend via Zoom. Here are a few verbatims:
"That was fabulous..."
"That was really something..."
"Good session. Well worth the trouble..."
"I had almost forgotten how much I enjoyed singing in harmony..."
"...very enjoyable even though I was still on Zoom..."
"I was having a great time until my laptop crashed..."